THE WORLD OF
PRACTICAL
PERFORMANCE
PSYCHOLOGY
A PLACE WHERE PSYCHOLOGY BECOMES
RELATABLE, PRACTICAL AND FUN.
Read more
What I do
OFFERED SERVICES
INDIVIDUAL SESSIONS
Sessions are built to mentally prepare individuals for optimal performance within their field. Overcoming fear, training focus, boosting motivation, building confidence, and mastering preparation skills are just some of the techniques offered. One-on-one encounters are available through Skype or in person.  
GROUP WORKSHOPS
Sessions are carried out in a group setting, where mental training is tailored to group's needs. Connectedness, communication, team-driven behavior and collective motivation are some of the topics addressed. 
LECTURES
One time lectures on various performance topics are available for diverse audiences. Presentation topics are determined upon organizer's request .
EVENT SPEAKING
Inspirational, motivational and educational talks are tailored towards business or sports event themes. Sara shares both her athletic and academic background to spice up audience's experience. 
Work so far
Whether working with athletes, pilots, business personnel, extreme performers, or musicians,
the key to mental resilience is the same across all fields. Learn more about my experiences by clicking on the boxes below!
MY BOOK - BETWEEN TWO LANES
Between two lanes is a mental training program specifically designed for swimmers. It is a 5-week training journey explaining basic neuroscience of resilience, while providing athletes with practical awareness training and visualisation techniques. The material is accompanied with 36 mental training recordings.
SHOP NOW
MARIA IORINI, SWIMMER
I have known Sara for 5 to 6 years, she helped me through a tough period where I was no longer improving and had lost motivation. With Sara's positivity and her lessons I was able to work through those problems, gain greater self-confidence and awareness. Sara is one of the most wonderful people I've ever met and is truly an inspiration.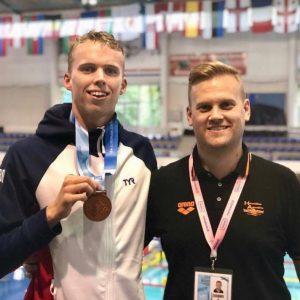 LEWIS BURRAS, SWIMMER
Sara has taught me how to view setbacks and failures as learning opportunities and has shown me that I should always believe in myself because I am capable of a lot more than I give myself credit for! She is the most caring, down to earth, and sweet person I have ever met and although she is now a couple thousand miles away, she is always someone that I look up to and aspire to be more like.
NATAŠA BRIŠKI, NORTH POLE CONQUERER
The North Pole expedition was psychologically a very demanding project. Sara helped me understand the mental obstacles that I was bound to face and equipped me with practical and relevant tools to help overcome them. Without her contribution it would have been really difficult to manage the grueling, bone-freezing weather. I'd recommend Sara to everyone out there who seeks for challenges and faces different kinds of ordeals.
CORNELIA BULL, ROWEGIAN
Sara helped us preparing for our transatlantic rowing expedition in 2017. Her competence and patience was one important reason for our successful crossing. Our two main goals were to beat the Norwegian record (59 days) and most importantly complete as a team and remain friends! Both goals were reached and Sara's help was a key factor in doing so. The combination of her incredible way of conveying her knowledge and her lovely personality is a winning recipe.
ASH MORRIS, HEAD COACH HAMILTON AQUATICS
Sara has a special ability to relate to our swimmers given her achievements in the sport - somebody who has been there and done it! The swimmers respond well to her as a role model but also her amazing knowledge and skill set in helping swimmers with their mental skills. We have been very lucky to have such a professional and passionate influence on our swimmers. Sara is always willing to engage with myself as the coach and communicate with the best interests of the swimmers at heart.
BLAŽ BRAČIČ, MANAGEMENT BOARD, NLB ASSET MANAGEMENT
Sara's positive, charismatic, yet humble presence made our financial consulting gathering a success. Combining her rich educational background and priceless athletic career experiences, she formed a recipe for our team, discussing tools for healthy functioning in both private and business lives. I'd recommend Sara in a heartbeat.